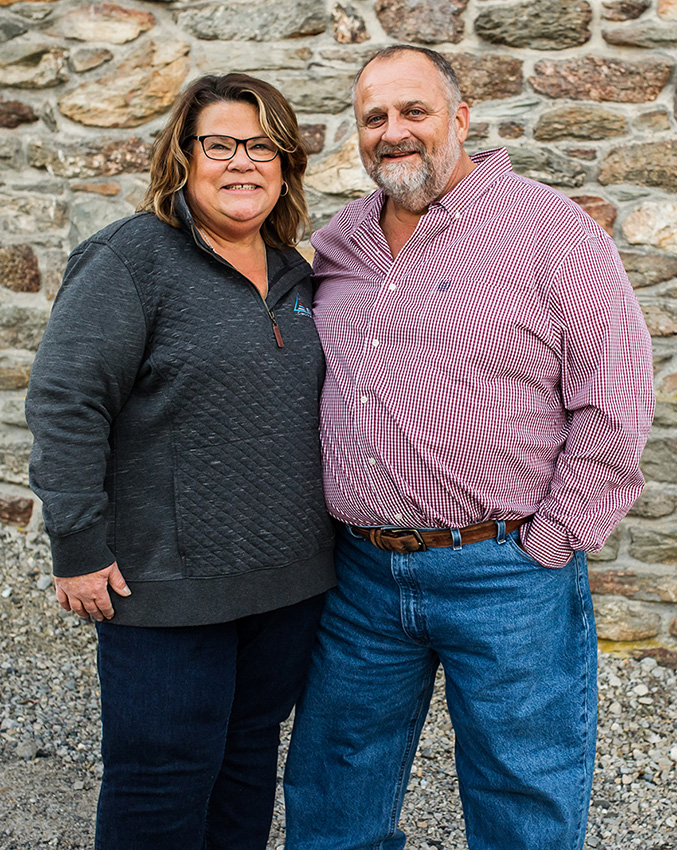 Keith and Ellen Smith opened Keith D. Smith Concrete Contractor, Incorporated in May of 1994. With a backyard shed as their shop and a kitchen table as their office, Keith managed all field operations, estimating, and project procurement, while Ellen handled all secretarial work and took care of the home and their two children. The company's first projects were mainly residential and light commercial work. By 1996 the couple grew their small business to eight employees.
It was then that Keith and Ellen moved their shop to a small warehouse in Hanover, Pennsylvania. This location had just enough room to house all the business's materials and equipment. Keith always believed in staying up to date with the newest concrete technologies, and the same year he brought decorative stamped concrete to the region.
In 1996, Keith Smith Concrete leased its first official shop location in Hanover, PA. The company purchased their first Bobcat and started to service small commercial projects.
In 1998, the company had grown to 16 employees, and it was time to expand even more. A 5-acre farmette was purchased and this became the company's new home base, providing plenty of room for the growing business.
In 2000, Keith Smith Concrete began servicing larger commercial projects. A dump truck and some excavating equipment was purchased. This would allow the company to pursue more work in terms of being able to offer a "complete package" of services which included excavation and grading and footer installation. This move allowed the company to gain more market strength.
In 2003, a new business venture came to fruition after it became apparent that the demand for curb work was on the rise. Keith partnered with Patrick Lucabaugh to form L&S Formless Curb Company, LLC.
By 2013, Keith Smith Concrete felt complete with the finalized construction of their brand-new office, located on the same property as the rest of the business in south Hanover, PA. This is the current location for the day-to-day business operations.
As the business grew and services offered to clientele evolved, Keith noticed there weren't enough available, convenient concrete pumps to service the booming multi-faceted local concrete construction industry.
In 2014, Keith, Ellen, and their son, Benjamin, came together and founded ELSEA Construction Services, LLC. ELSEA currently has a fleet of four boom pump trucks and one trailer pump that serves South Central, Pennsylvania, Northern Maryland, and West Virginia.
In 2021, Keith Smith Concrete purchased its very first Somero Broom and Cure Machine. This piece of equipment works hand in hand with on site laser screeds to take much of the physical labor and guesswork out of broom finishing concrete.
Keith Smith Concrete has grown leaps and bounds. With the aquisition of more technologically advanced equipment, our mission is to provide our clients with quality products and services, always operating on the principles of hard work, honesty, and integrity.
As we approach our 30th Anniversary, we continue to grow and learn just as we have from day one. Keith Smith Concrete typically operates with 50 to 60 employees at any given time. We recognize that our employees are our greatest asset, and we strive to provide them with the latest equipment and training necessary to promote both corporate and personal growth. Focusing on a family first employee culture and a strong committment to serving our community, it is a goal of Keith D. Smith Concrete Contractor, Inc. to be one of the most well rounded, respected, technologically advanced, and adaptable turnkey concrete construction companies in South Central, PA. We have our sights set high for the future growth.
Continuing The Legacy
Benjamin Smith, Keith and Ellen's son, returned to work for Keith Smith Concrete full-time in 2008. He has grown right along with the company and now assists his father with project management, scheduling, and employee management, as well as assisting his mother with the daily functions pertaining to ELSEA.
Excitingly, their daughter, Abigail Cornett, decided to join the KDS team in 2019. She came on board to coordinate stock and inventory, plan annual company functions, organize philanthropic activities to engage within and serve our community and provide additional help in many areas throughout our office. She is also the author of our monthly corporate publication – The Monthly Mud.